Do you think that there are more and more festivals in recent years?Besides the very important days like birthday, Christmas and Valentine's Day, I even have heard trouser's day and shopping day. Festival makes us happy, but when these days come, do you have the feeling that you do not know which gift you can buy?
Now Ugee technology offers you more choices. We have the creative, productive and smart paper handwriting folio or tablet for you.
You can check the good looking appearance as below: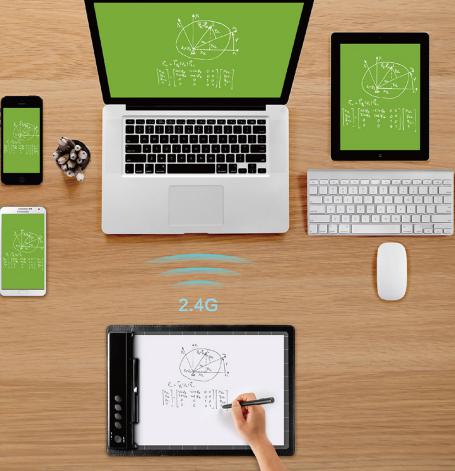 This is the smart digital pen paper handwriting tablet.
In the information age, personal computers, mobile devices, and network equipment are increasingly used in the education field. However, excessive use of electronic products means people lose practice writing naturally, and over-exposing them to screens causes great concerns for eye health. The traditional paper writing, on the other hand, makes it very cumbersome to convert handwritten contents into digital form in the digital and big-data era when one needs to scan or take photos to digitize handwritten contents.
If you want to keep space with the times, but do not want your children to be addicted into the electronics, it is a good choice to buy it as a gift and learning tool.
Now this product is widely used in the following scenarios:
A.Lecture preparation, course contents recording, after-class Q & A
B.Live online lecturing, interactive remote learning
Ugee smart handwriting tablet is based on electromagnetic induction technology. Handwriting is captured, digitized, and stored efficiently in real-time without accuracy loss.
The specifications of the smart handwriting tablet:
Model: ET04
SPECIFICATION OF ET04RF(2.4G)

Picture










Product Name




UGEE Educational Interactive Wireless 2.4G Handwriting USB Black Writing Pad with Pen

Function Description




This product is tablet with electromagnetic Digitizer function, can be used to engage in signature, professional graphics and other work

External Dimension




258mm x 380mm

OS Support




Windows, Mac, IOS, Android

Active Area




210mm x 297mm, (A4)

Input Power




DC 5.0V

Pen tilt Angle




±45°

Transmission interface(Optional)




USB

√

2.4G




Bluetooth




WIFI

Appearance type




A4 slate or portfolio

Pressure Sensitivity




2048 Level

Report Rate




250 RPS

Interface Support




USB

Sensor Height




3-7mm (can be customized)

Pen Model




P08 (black) battery-free pen

Battery lifetime




20 hours

Battery capacity




1050 mAH

Application Interface




No driver required, propertiary data format, data exchange via OCX/DLL

Product Net Weight




600g